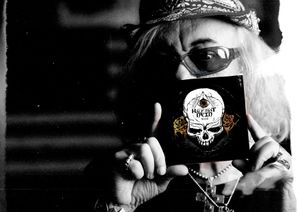 Latest Half Past Nein Single: "Blessing"
"Blessing" by Half-Past Nein  shows off the passion and intensity of guitarist and vocalist Billy Jackson. "Blessing" pays homage to the stone age of heavy metal, featuring an electric guitar, bass, and drum trio with a brash and relentless sound. The track is short and sweet, packing a two and a half punch. "Blessing" has an infectious energy and is an iconic demonstration of Half-Past Nein's unscripted take on rock and roll roots.
Available now on all major digital music platforms worldwide >>>
Watch the official music video >>>
「Blessing」はHalf-Past Neinのギタリスト兼ボーカリスト、ビリー・ジャクソンの情熱と強度を披露しています。この曲はヘヴィメタルの原点に敬意を払ったもので、エレキギター、ベース、ドラムのトリオが織りなす派手で容赦のないサウンドが特徴です。この曲は短く、2.5分間の迫力を凝縮しています。「Blessing」は伝染性のあるエネルギーを持ち、Half-Past Neinがロックンロールのルーツに対するスクリプトのないアプローチを象徴するアイコニックなデモンストレーションです。
Half-Past Nein YouTube Channel.